曼省国际学生移民独家优势(官方中英文说明)
曼省国际学生移民优势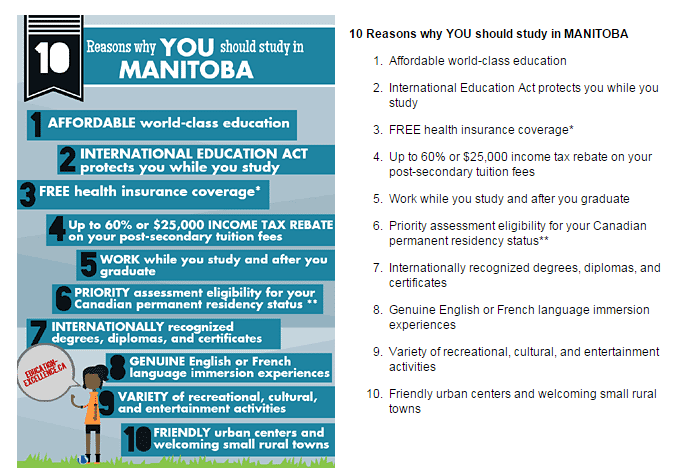 曼尼托巴鼓励国际学生毕业之后留在曼省
International students encouraged to stay after graduating in Manitoba
正在工作的毕业生有资格通过MPNP申请曼省移民,此项政策仅仅适用于曼省高等学校毕业生。
Working Graduate is one means to establish the Connection to Manitoba required to be eligible to apply to immigrate to Manitoba through the MPNP. This category applies only to graduates of Manitoba post-secondary schools.
在毕业后,如果在曼省持有工签,至少连续工作六个月,且雇主会提供永久工作,则将优先得到曼尼托巴省提名项目处理。
If after graduation you have been working in Manitoba continuously for at least six months with a valid work permit and your employer offers you a permanent job, you are eligible to apply to the Manitoba Provincial Nominee Program with priority processing.
条件:
Conditions:
参加了在曼尼托巴省授权教育或培训的公立学校,和注册了的私立职业或大专学校。
You attended an authorized education or training program at a public, or registered private vocational, post-secondary institution in Manitoba.
学习项目为全日制且至少持续一个学年。
Your program was full-time and at least one academic year in duration.
成功完成学业,并被授予文凭、学位或证书。
You successfully completed your program and were awarded a diploma, degree or certificate.
为提供永久全职工作的雇主至少连续工作六个月。
You have been continuously working for at least six month for the employer who has offered you a permanent full-time job.
持有加拿大联邦移民局颁发的合法毕业工签。
You have a valid post-graduation work permit from Citizenship and Immigration Canada.
你和曼省的联系相比加拿大其他省更紧密。
Your connection to Manitoba is stronger than ties you may have to another Canadian province.
在递交的安置计划书里要表明居住的意向和计划,包括工作,在曼省之后作为永久居民得家庭生活。
You can demonstrate in a Settlement Plan your intention and plan to live, work and establish your work and family life in Manitoba as a permanent resident.
资格达标且英语或法语熟练达到能够完成工作任务的标准。
You have all qualifications and the English or French language proficiency to fulfill the duties of your job.**
也就是说如果你的工作类别属于NOC C或D类,则必须达到加拿大政府规定的最低语言标准。
** If your job is lower skilled (National Occupation Classification [NOC] C or D) you must meet the Government of Canada minimum language requirement.
定居资金:MPNP需要你出具至少10000加币,确保你能够在劳务市场和社会上经济独立。正在曼省工作的毕业生不要求出具资金证明。MPNP会根据你的收入来抉择。但你必须在申请中能够出具一些属于你名下的资金证明。
Settlement funds: While the MPNP generally requires applicants to have at least $10,000 to ensure you are self-supporting while becoming economically established in the labour market and community, grads currently working in Manitoba may not have to demonstrate they meet settlement fund requirements. The MPNP will consider your employment income. But in all cases you must provide evidence, in your application, of some settlement funds in your name.
要求文件:递交的申请表中必须包括雇佣,教育,移民状况/历史。
Required documents: With your MPNP application you must submit all documents for employment, education, immigration status/history etc. as explained on the page Apply.
请注意:
Please note 
持有毕业后工签:在毕业后的90天内,向CIC递交申请。可以向学校国际学生指导员寻求帮助。
Getting a post-grad work permit: Apply to Citizenship and Immigration Canada (CIC) within 90 days of completing your school program requirements. If you need help see the international student advisor at your school.
身份变化:如果你的身份在等待MPNP审核中发生变化(比如:在申请MPNP时的工作发生了变化),必须及时告知MPNP,并且附上雇主的个人推荐信和回聘书。
Change in status: If your status changes while you're awaiting MPNP assessment (ex: you leave the job indicated on your MPNP application) you must notify the MPNP in writing and include a personal reference and job offer letter from your new Manitoba employer.
曼省以外的学生无资格根据马尼托巴省工作类别申请MPNP。但你只要能够证明与曼省的联系比其他加拿大省都要紧密,则可以申请。(很重要:如果你想凭借在曼省拥有工作这一点来申请,必须为雇主工作至少一年)
Students outside Manitoba are not eligible to apply to the MPNP under the Currently Working in Manitoba category. However you may still apply to the MPNP ― provided that you demonstrate a connection to Manitoba that is stronger than your ties to another part of Canada. (Important: If you want to apply because you've been offered a job in Manitoba, note that you must first have been working for that employer for at least one year.