加拿大时间2017年1月10日,加拿大总理贾斯汀·特鲁多(Justin Trudeau)宣布对其内阁进行调整:原国际贸易部长方慧兰(Chrystia Freeland)出任外长;原移民部长麦家廉(John McCallum )也将离开内阁,他将被任命为加拿大驻中国大使。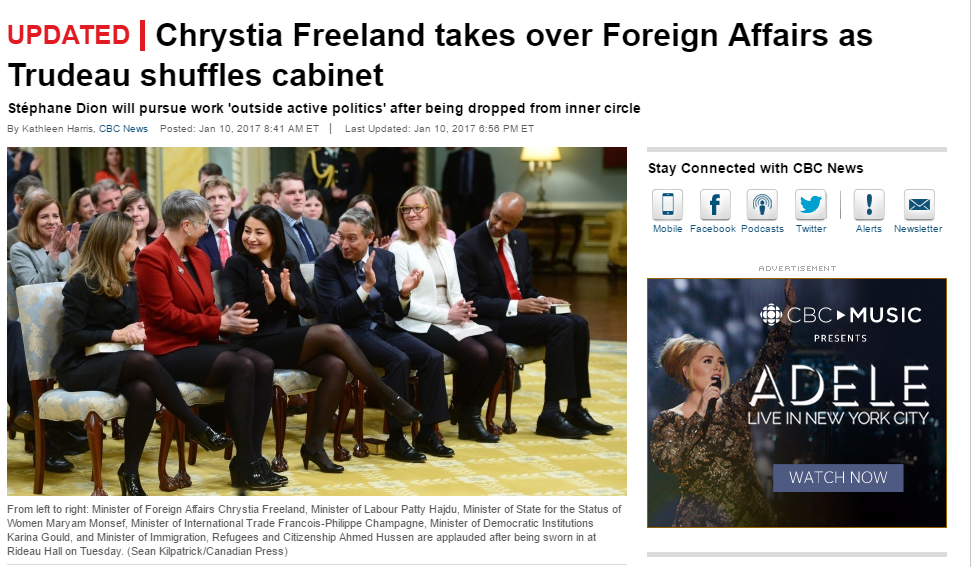 在唐纳德·特朗普 (Donald Trump)即将宣誓就职、成为美国总统的前夕,加拿大总理贾斯汀·特鲁多(Justin Trudeau)宣布对其内阁进行调整。加拿大广播公司报道,加拿大总理特鲁多赶在美国候任总统特朗普即将正式就职前进行内阁重组,把能力强的内阁部长调整到关键位置,以强化未来加美和加中关系。
最引人注目的是两个重要部长职位的人选变动,两名"老将"将不再从政。
一个是外交部长,原外交部长迪翁(Stéphane Dion)将离开内阁,担任外交官职务,原国际贸易部长弗里兰德(Chrystia Freeland)将出任加拿大的新外交部长。
Chrystia Freeland has been named Canada's new top diplomat, replacing veteran politician Stéphane Dion as foreign affairs minister in Prime Minister Justin Trudeau's first major cabinet shakeup.
另一个是移民部长,原移民部长麦家廉(John McCallum )也将离开内阁,他将被任命为加拿大驻中国大使。
Trudeau also announced that former immigration minister John McCallum will be Canada's new ambassador to China after a "distinguished career in public service."
---
加拿大的新移民部长将由自由党在安大略省的议员 Ahmed Hussen 出任,Ahmed Hussen 出生在索马里,16岁时以难民身份来到加拿大,之后成为律师,热衷政治。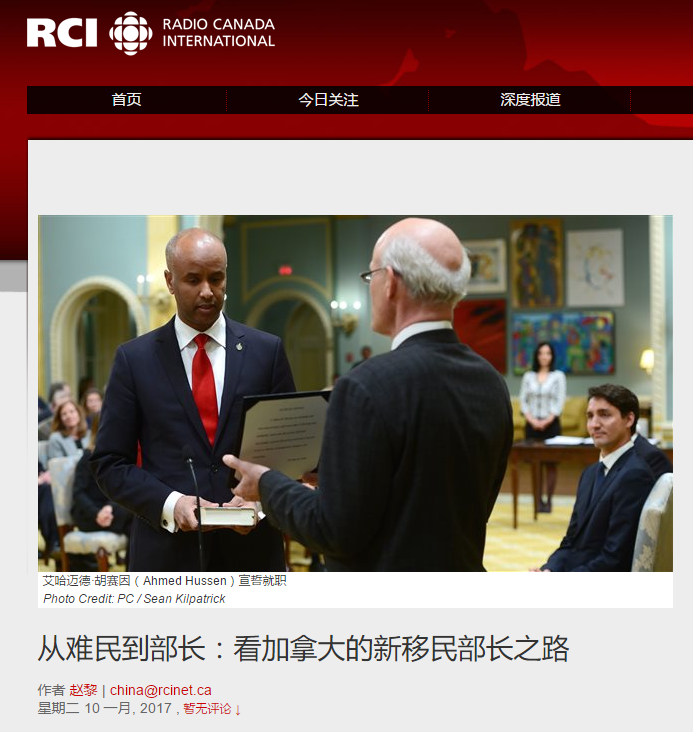 除了自由党这两名"老将"退出政坛,内阁的其他人选变动如下:
Patty Hajdu将从妇女地位部长调任为劳工部长;
Maryam Monsef 将从民主制度事务部长调任为妇女地位部长;
Karina Gould将被任命为民主制度事务部长。
Other changes announced today:

Patty Hajdu moves from status of women to labour.
Maryam Monsef transfers from democratic institutions to status of women.
Karina Gould named minister of democratic institutions.
以上图片和资料来源于 CBC 和 RCI
---
如果您有任何留学和移民的问题,请来找我们:新未来—-您可以信赖的朋友
更多留学移民新鲜资讯,请关注新未来!