加拿大移民部部长麦家廉(John McCallum)今天(加拿大时间2016年12月14日)宣布了2017年担保父母及祖父母团聚的申请过程将作出一些改变。往年"先到先得"(1st-come 1st- served system) 的方式将会被"随机抽取"(Lottery system)方式取代。

长期以来,加拿大政府坚持不懈的致力于家庭团聚的移民项目。每年,加拿大政府的父母和祖父母团聚移民Parent and Grandparent Program都成功地帮助了成千上万来自不同国度的家庭成员在加国相聚。
以往"先到先得"的申请方式
在最近几年,为了最大化地保证父母及祖父母计划Parent and Grandparent Program的利益、控制获签人数增长过快,移民部有意识地限制了父母及祖父母签证申请的数量。很多想为自己父母或祖父母担保的人都只有在一月份的时候扎堆排队,急急忙忙地投递自己的签证申请。有些人花了几百加元,只为保证当天快递能将材料早点送到。而这种做法被不少人认为有失公平。
OTTAWA — The federal government is scrapping an immigration application system that saw some Canadians paying hundreds of dollars to ensure paperwork to sponsor family members was at the top of the pile.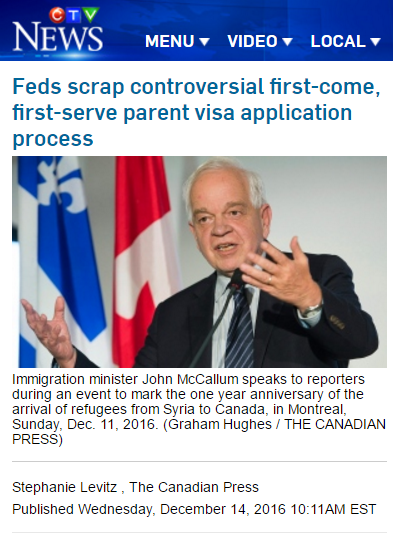 ---
2017年"随机抽取"的申请方式
改革之后,担保人可以有30天的时间在网上预先填写一张表格,表达自己想为父母或祖父母申请的意愿。接下来,移民难民公民部会随机抽取10000名填写了表格的人士,然后请他们直接递交完整的申请资料。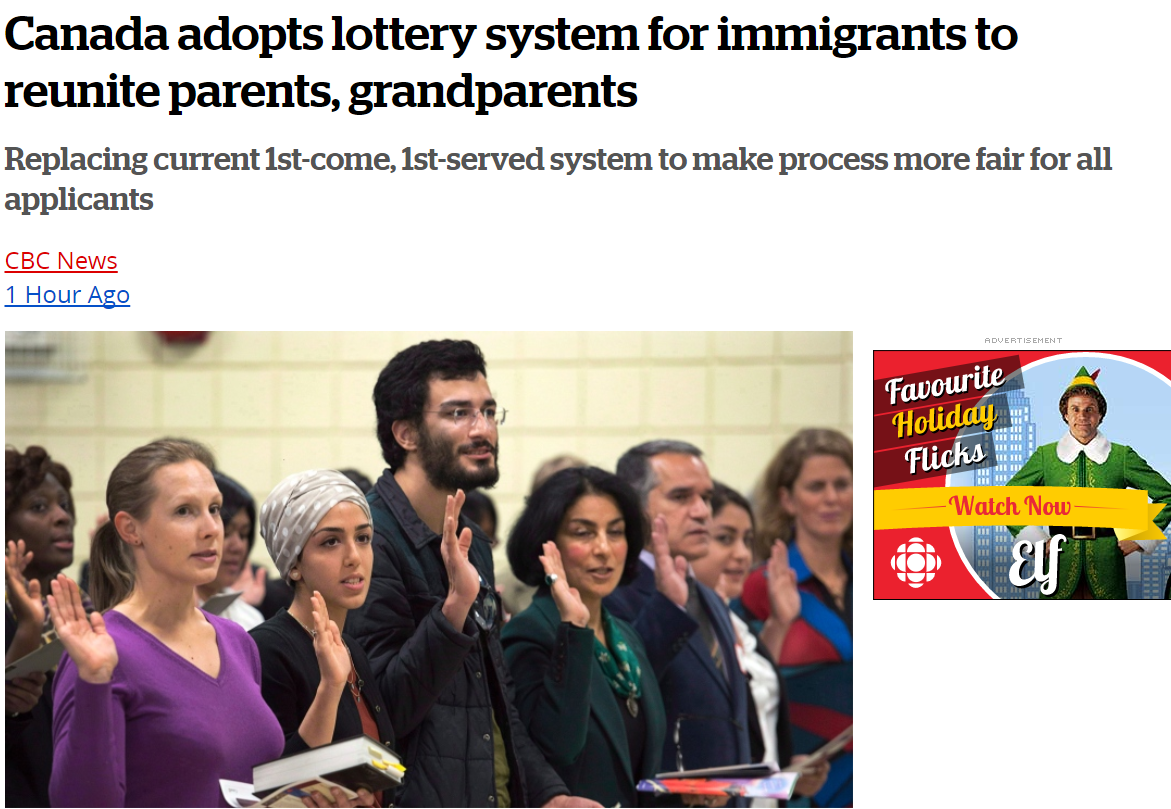 在线申请表格从2017年1月3日开始就能获取。担保人有30天的时间来填写这些表格信息。
Rather than the January rush to submit applications by courier or mail, those wanting to bring their parents or grandparents to Canada will now have 30 days to fill out an online form to indicate their interest. IRCC will then randomly choose 10,000 individuals from those who filled out the form, and those people will be invited to send in their complete application package.
30天结束后,移民局会通知每一个在线申请人是否被抽中;被抽中的申请人将有90天的时间递交完整的申请材料。完整的申请指南和材料于1月9号在移民局网站可以获取。
IRCC will let everyone who completed an online form know whether they were chosen or not. Only those who were randomly chosen will be invited to apply to the Parent and Grandparent Program.

Those who were invited to apply will have 90 days to submit their complete application to IRCC. The 2017 application kit and guide will be available on IRCC's website on January 9, 2017.
麦家廉表示:"我们听取了申请人的意见和建议,努力保证整个申请更加公平。并且,我们会全力保证在整个抽取过程中,每一位想担保父母和祖父母来加拿大的民众都拥有完全平等的机会被抽中。"
"We're listening to what past applicants had to say and making the process fairer for people who want to sponsor their parents or grandparents. We're ensuring everyone can access the application process by giving them the same chance to have their name chosen."

– The Honourable John McCallum, Minister of Immigration, Refugees and Citizenship
---
如果您有任何留学和移民的问题,请来找我们:新未来—-您可以信赖的朋友
更多留学移民新鲜资讯,请关注新未来!